Patented
Self Cleaning Technology
Patented
V-Twin Jet Technology
Optional
Pure Water System
Energy Efficiency
4.5 Stars
Starting Price Range
$$$$ – $$$$$
Free Hot and Swim Spa Buyer's Guide
Whether it's staying active, defying stress, or combating pain, your Hydropool can and will help you be your best self. To help with your planning, explore our guide to assist your purchasing journey. Go a little deeper into the specs, and explore all the features and conditioning benefits of our World's Only Self-Cleaning Hot Tubs & Swim Spas. Jump in with Hydropool Hot Tubs. The Water is Calling.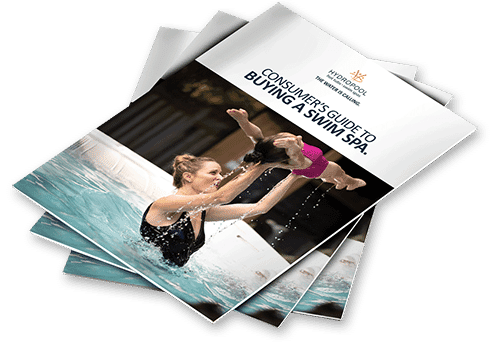 AquaTrainer Models
AquaTrainer 14AX

Our 14AX Aquatrainer with Self Cleaning technology, provides the ideal environment for at-home, total-body fitness.

AquaTrainer 17AX

The 17AX Aquatrainer allows for endless swimming at beginner to advanced levels, dial in your perfect swim.
AquaTrainer Swim Spa
The Hydropool AquaTrainer is a pool, hot tub and aquatic gym all in one. This advanced self-cleaning system is available in 14′, 17′ and 19′ lengths.
You can relax, play or train in your own backyard pool 365 days a year. This fitness pool includes variable resistance, adjustable current stream, thigh & abductor jets for lower body massage or resistance exercises and multi-hydrotherapy massage seats. The swim spa can also be enjoyed for cooling off or just relaxing in the water. The current is adjustable for beginner to competitive swim levels.
Expert Advice
We are here to help you find the perfect model to meet your needs and requirements.
Why Buy An AquaTrainer Swim Spa
The Hydropool V-Twin Jet
Fitness Break: BoxFit #1
Winter Pool Exercise
Fitness Break: Bicep Curl
The AquaTrainer Swim Spa is like a water treadmill. It has jets that allow you to swim against a current so you can swim lap after lap without actually moving across the pool. The effective resistance system that creates a strong current for the swimmer to swim in place is what sets Hydropool apart from other competitors in the market. 4 key features of the Hydropool AquaTrainer include:
Swim jets
Customized Swim Current
AquaChannel Shell Design
AquaBoost Pump Design
Swim Jets
Hydropool swim spas give you the perfect swim every day of the year. You never have to touch, turn or push off from a wall and instead can you focus on stroke technique, speed or simple enjoyment of the swim. The swim current can be adjusted to your own personal swim level. The Hydropool AquaFlow Swim Jet system includes two wide-stream aqua flow jets and one high flow buoyancy jet. The benefit to this high performance three-stage flow technology is that is produces a wider, deeper, smoother current than any other system on the market. The consistency of the water flow keeps it turbulence-free.
Customized Swim Current
The AquaFlo Swim Current is adjustable for all swim levels. You can swim as long as you'd like without moving from that spot at a speed that is comfortable and right for you. The adjustable speed goes from 0-11 MPH / 0-18 KPH flow rate. This makes it great for rehabilitation and interval training.
AquaChannel Shell Design
The Hydropool AquaTrainer has no protruding steps or seats in the swim area. This tank design ensures that there are no hidden obstacles for your feet to hit in the swim lane. This wide swim channel, consistently smoother water from the stabilization jets, no back splash, swim lanes on the floor and reinforced sides make this swim spa strong enough and large enough for two swimmers! All in all giving you a far superior swimming experience than any other swim spa available today.
AquaBoost Pump Design
The Hydropool AquaTrainer includes one HydroClean filtration pumps, one 3HP EverGreen pump and two AquaBoost 5 HP pumps. There is a 2 ½ inch intake and return and all pumps are Evergreen Efficiency (30% less amperage than a traditional pump.)
Hydropool swim spas offer year round use with all the benefits of a conventional pool and less maintenance cost to operate. You can choose from a full array of self-cleaning Hydropool swim spa models that are all energy efficient at our showroom.
See What Our Customers Have To Say
Shop Our Other Great Collections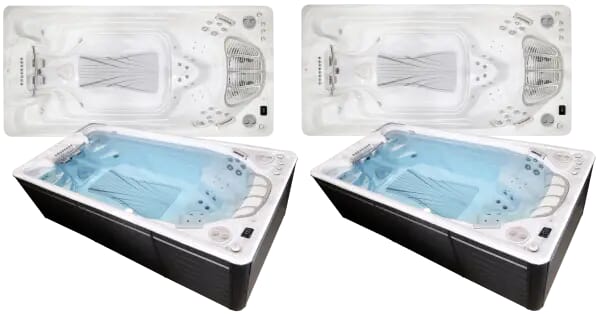 The Executive Collection
The Executive Collection is Hydropool's evolution of the perfect swim. It does not raise the bar, it sets the new standards and is the bar! The streamlined unobstructed shell design is tapered to channel the flow of water towards the patented Current Collector at the opposite end of the spa. The fully programmable VFX Control has four user programs and four preset programs, giving the user the ability to dial in the perfect swim and program workouts like the Hill Climb and Interval training options and easily allows you to track your speed, distance, calories burned and length of the workout. The patented V-Twin jets deliver the smoothest and most predictable swim current in the industry. Included with every Model is a pair of FORM Goggles with a heads-up display.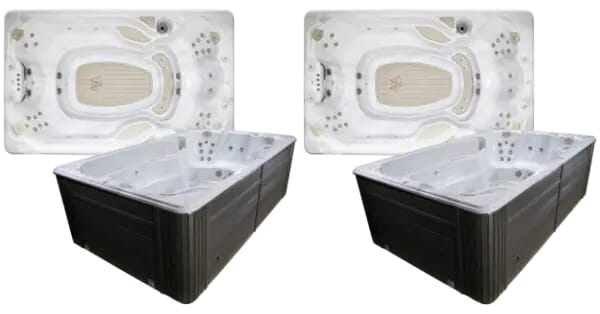 The Play Collection
The 12FFP AquaPlay Swim Spa will more than suit any active lifestyle. This model features two swim jets that mimic the natural resistance of water to help you get the most out of your swim or workout. The contoured seating and massaging jets offer built-in hydrotherapy and relaxation. The AquaPlay Swim Spa has a generous streamlined swim tank area with plenty of seating for the whole family. The swim tank floor has an anti-slip floor that allows for a variety of fitness routines, jog in place, BoxFit or Aquatic Cross-Train for a great cardiovascular workout. You can swim stationary laps for a full-body workout, then relax in the contoured seating and enjoy a massage with the built-in hydrotherapy while the rest of the family plays on.