Find Your Perfect Hot Tub
With so many hot tubs to choose from, how do you know which one is right for you? In a few simple steps, we will show you the ideal hot tub for you!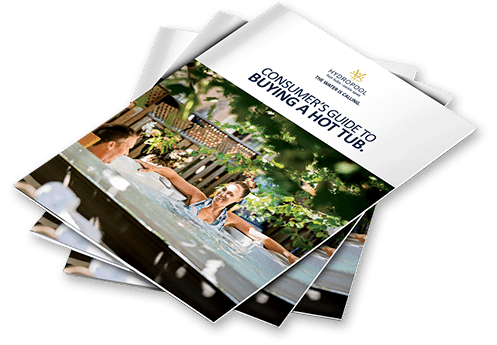 Free Hot Tub Buyer's Guide
To learn how to select the perfect hot tub, download your free buyer's guide now by clicking below!
Imagine a private, spa-quality vacation in your own backyard every day…
When you want to bring your friends or family together and have fun, a hot tub is the perfect place to do it. Sit back, relax, share conversation, and let your stress melt away. Hot tubs are proven to deliver physical, mental, and emotional therapeutic benefits to enhance your life.
Browse through some of the various ergonomic seating layouts on the Self Clean or Serenity model pages located below, or contact us with some details about what you're looking for, to see if we have display models in stock for you to come visit our showroom to see them in person.
The Signature Self Cleaning Models
The Signature Self Cleaning Collection
If only it could clean the house, too!
The Signature Self Cleaning Collection is the culmination of 40 years of Hydropool innovation as an industry leader. A host of exclusive features gives you the ultimate Hot Tub experience with unique hydrotherapy massage and wellness programs, Self Cleaning System, plus money-saving energy efficiency. With nine spa models to choose from and a wealth of finishing options, you'll find a Hot Tub that fits your space and style. Our Signature Self-Cleaning Collection provides the ultimate in luxury, comfort, Massage and ease of maintenance. Our exclusive patented Self-clean technology filter 100% of the water in only 15 mins make this what we believe to be the world's easiest to maintain Hot tub. The Signature Self-clean Collection provides you with the ultimate luxury & complete customization. Each Signature Self clean model comes with a complete wellness guide, and our platinum and titanium models include our Hydrother Control offering the world's only pre-programmed massage therapy that features eight hydrotherapy programs, such as Leg pain, Back pain, Sports Recovery, headache and insomnia providing the ultimate stress relief.
Patened
Self Cleaning Technology
Worlds Only
Pre-Programmed Massage
Starting Price Range
$$$ – $$$$
The Hydropool Serenity Models
Serenity 4300

The Serenity 4300 is perfect for those looking for a smaller tub that feels large inside!

Serenity 4500

The Serenity 4500 has spacious seating with a lounger that doubles as a unique cool-down ledge.

Serenity 5900

The Serenity 5900 features cofortable deep seats and full-body massage with space for 5.

Serenity 6600

The Serentiy 6600 is a small but spacious spa, with 2 captain seats and 4 Massage Zones.

Serenity 6800

The Senerity 6800 is a spacious 6 person hot tub with 4 deep captain seats perfect for entertaining.
The Serenity Collection
Our Serenity collection features sleek lines and stunning cabinets and high flow filtration, the serenity is a great spa for anyone. Each Serenity model comes in one easy-to-understand configuration with limited options and upgrades, making it easy for you to enjoy simplicity at its best. The Serenity Collection comes in 3 different sizes. This Collection features premium lighting and exterior Moonlights, 2 Aqua Blade Waterfalls, premium design maintenance-free cabinetry and our weather seal insulation system. Every model also features non-slip padding throughout the spa for safe east entry and exit.
Standard
Premium Led Lighting
Optional
Pure Water System
Energy Efficiency
4.5 Stars
Starting Price Range
$$ – $$$
The Classic Collection
The Classic Collection features affordable luxury for everyone. With simple timeless designs, the Classic Collection is very flexible with 110v or 220V convertibility that allows you to simply plug into a regular outlet with no need for an electrician, saving you money at the time of install making them perfect for smaller spaces, first-time buyers or someone looking to downsize.
Plug & Play
110v or 220V Convertible
Optional
EZ-Pure Ozone System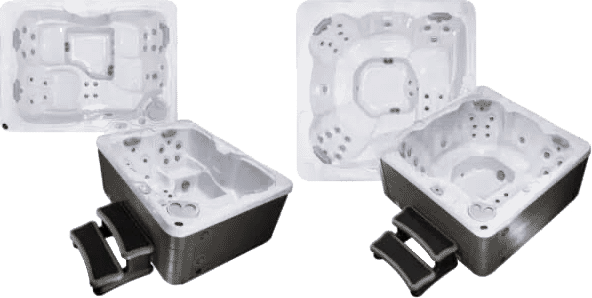 Waterbee is dedicated to selling only the highest quality hot tubs with the individualized options that will perfectly fit your lifestyle.
We are proud to be Essex County's exclusive dealer for Hydropool Self-Cleaning & Serenity Hot Tubs!
With our three distinctive lines and highly knowledgeable customer service team, you are certain to find the right hot tub for your needs.
The best research is done in person in our showroom, where you can sit in the display models yourself, and see first hand the Canadian-made quality that goes into the innovative design, construction and finish of these beautiful hot tubs. You can also compare the sizes, layouts and colours side by side to get a true vision of how it will fit your needs.
Visit our showroom once it's re-stocked with display models to see the quality manufacturing and unique features for yourself. We can't wait to get started and help you design your perfect hydrotherapy experience.
Save now and pay later with a financing payment plan! More info and application pre-approval here: Financing Preapproval.
Why Hydropool? What makes Hydropool the best?
There are actually lots of reasons we feel make Hydropool the best hot tub choice on the market today, but here are a few of our favourites:
Hydropool takes energy efficiency seriously, saving you time and money without sacrificing quality, to ensure the effective hydrotherapy massage benefits and clean, clear & safe water that you expect for your family in the most economical way possible. They are ranked in the top 3 in the world for stand by wattage and energy efficiency.
Their Self Clean filtration system is the most thorough, effective and is truly the most energy efficient filtration system in the world. The skimmer and floor vacuum combination, linked with a pressurized filtration system ensures that 100 % of the water in your hot tub is filtered through your 75 square foot dual core microfilter every 15 minutes! On top of that, this process is being done using a special dedicated Evergreen high flow/low energy filtration pump that is 26% more energy efficient than the competition. (That process takes 12 to 20 times longer in any other hot tub)
Their Hydrowise Thermal Shield insulation system is intelligently designed from years of practical experimentation with other systems in order to maximize all available heat sources while still providing support and full access to plumbing. This reduces energy use and costs tremendously, saving you even more money.
The science of the perfect therapeutic massage design:
There are three main components to the perfect massage: pumps, plumbing, and jets. Hydropool believes that to truly understand the science of the perfect massage, all three components need to be looked at as one single entity to produce the best massage. Hydrotherapy is about flow rate (gallons per minute – GPM) and optimum pressure, not horse power (HP).
Evergreen Pumps:
Designed to produce the most efficient flow rate in the industry
Hydropool Pump impellers have wider, deeper blades, allowing them to produce a large volume of water
Hydropool Self-Cleaning Hot Tubs: 180 GPM at 18 PSI versus the competition with 100 GPM at 12 PSI
Pump return is positioned at 12 o'clock optimizing centrifugal force
High Flow Plumbing:
Hydropool achieved BEP (Best Efficiency Point) in the plumbing of every hot tub
Balanced Flow Rate: 2″ plumbing throughout entire hot tub; manifold-style plumbing
Decreased Flow Distance: distance from suction to pump and from pump to jets; two large suctions and pumps
Hydropool is 26% more efficient than the competitors with its pumps
HydroFlow Shaft Style Jets:
Optimized flow design produce the best flow rates
ANATOMY OF OUR JETS
The next generation fluidity jet sets: a series of non-bearing jets that ensure trouble-free operation of your hot tub
Bearingless design increases the life of the jets
Depending on the age of the hot tub, the coefficient of friction is between 40-100% better
Our jets eliminate chemical corrosion of jet casings, bearing failures and clogging, as well as deliver the superior benefits of hydrotherapy
WHAT SETS OUR JETS APART
Our adjustable, high-volume hydrotherapy jetting system paired with our professionally designed Wellness Guide puts Hydropool well ahead in the spa industry for therapeutic effect.
Our exclusively-designed zoned jetting delivers a balanced, soothing massage and the desired rejuvenation and hot tub experience. With a variety of jet styles featuring enhanced efforts such as steady, waving, pulsating, single or dual streams, etc, all with adjustable flow rates and further customizable with diverters and air control, you are sure to get the PERFECT massage in a Hydropool hot tub.
Browse through some of the various ergonomic seating layouts on the Self Clean or Serenity model pages located above, or check with us to arrange a time to come visit our showroom to see them all in person!
Save now and pay later with a financing payment plan! More info and application pre-approval here: Financing Preapproval
See What Our Customers Have To Say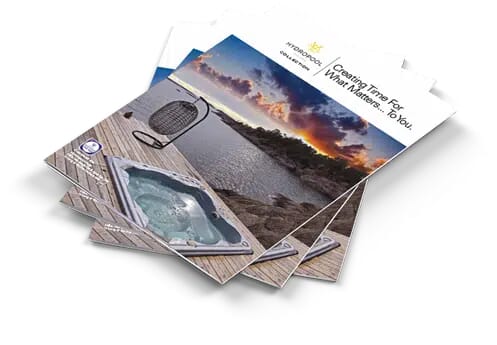 Free Hot and Swim Spa Brochure
Every Hydropol Hot Tub and Swim Spa is designed to exceed your expectations with superior ergonomic design, jet options and 10-year structural guarantee. Wet your appetite for supreme luxury with a little light reading. Download the latest Hydropool Hot Tub and Swim Spa Brochures here. Please take a look at our brochures to help choose the model which is right for you.
Free Hot and Swim Spa Buyer's Guide
Whether it's staying active, defying stress, or combating pain, your Hydropool can and will help you be your best self. To help with your planning, explore our guide to assist your purchasing journey. Go a little deeper into the specs, and explore all the features and conditioning benefits of our World's Only Self-Cleaning Hot Tubs. Jump in with Hydropool Hot Tubs. The Water is Calling.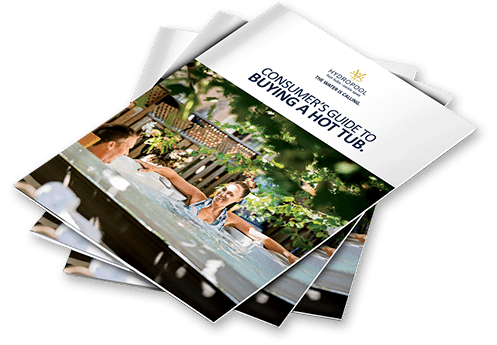 See What Our Customers Have To Say